As an affiliate, I may collect a share of sales or other compensation from the links on this page.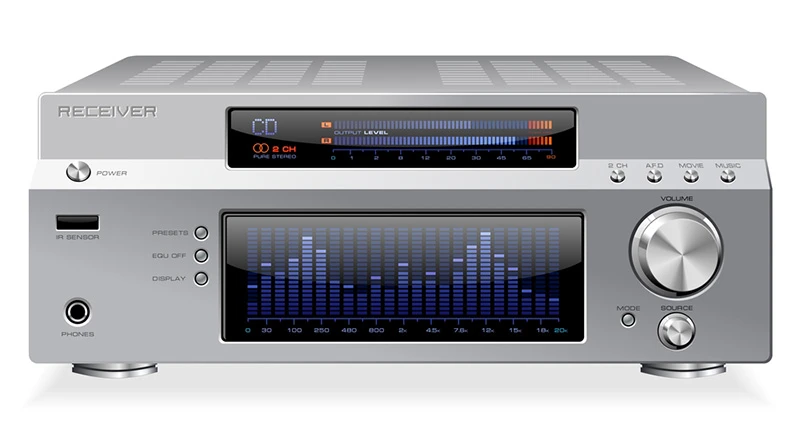 A/V receivers are a must-have if you want your home theater to feel as close as possible to the real thing. Whether you're setting up your home theater from scratch or just looking to upgrade, it can be quite daunting to choose a receiver from the host of options available in the market.
No need to stress yourself out, I've done the research for you! After many long hours of sorting through all that marketing and hype, here are my top picks for AV receivers (all linking to the respective Amazon listings).
| AV Receiver | Channels & Audio | Video Features | Connectivity Options |
| --- | --- | --- | --- |
| Yamaha RX-V4A | 5.2 with Dolby Atmos, DTS:X, YPAO | 8K/60Hz, 4K/120Hz, VRR | Wi-Fi, Bluetooth, AirPlay 2 |
| Sony STR DH790 | 7.2 with Dolby Atmos, DTS:X, S-Force PRO | 4K/60Hz, HDR10, HLG, Dolby Vision | Bluetooth |
| Denon AVR-X2700H | 7.2 with Dolby Atmos, DTS:X, Audyssey | 8K/60Hz, 4K/120Hz, VRR, HDR10+ | Wi-Fi, Bluetooth, AirPlay 2, HEOS |
| Onkyo TX-RZ50 | 9.2 with Dolby Atmos, DTS:X, AccuEQ, THX Certified | 8K/60Hz, 4K/120Hz, VRR, HDR10, Dolby Vision | Wi-Fi, Bluetooth, AirPlay 2, Works with Sonos, Chromecast built-in |
I've zeroed in on the A/V receivers from reliable brands that I think give you good value for money. Although there are newer models available, I've picked these receivers because they are versatile, packed with features, and offer great performance.
So let's take a closer look at each of these receivers- their best features, as well as their drawbacks. Since the popular ones tend to fly off the shelves and go out of stock, I've also given you alternatives you can check out.
Best A/V receivers under $ 500
If you're looking for a receiver for under $500, there are many options that will deliver high-quality audio and video.
However, you would need to make certain trade-offs, for instance on the features, the number of channels, and the input/output options you get.
You'll have to decide which features are more important to you- do you want a receiver that will do a little bit of everything, or are you looking primarily for a receiver that will give you the best possible movie experience?
That's why I've recommended two receivers for this category- you can see which better suits your needs.
Yamaha RX-V4A (Best Budget All-rounder under $ 500)
YAMAHA RX-V4A 5.2-Channel AV Receiver with MusicCast
HDMI with HDCP 2.3 and eARC (4 in / 1 out)

4K60, 4K120AB and 8K60B HDMI 2.1 with HDCP 2.3 and eARC (4 in/1 out)

Wi-Fi 2.4 GHz/5 GHz, AirPlay 2, MusicPlay (iOS and Android) and Spotify Connect

Voice control with Alexa and Google Assistant devices or Siri via AirPlay 2

Pandora, Spotify, Napster, SiriusXM, TIDAL, Deezer, Qobuz, Amazon Music HD

Dolby Atmos and DTS: X

Dolby Vision, Hybrid-Log Gamma and BT.2020

YPAO room calibration
The Yamaha RX-V4A offers support for a 5.2 surround sound configuration with excellent picture and sound. It also has a few added frills you will love.
Be warned though, if you have your heart set on Dolby Atmos, then this is not the receiver for you – it does not support Dolby Atmos and DTS: X.
But if that's not a dealbreaker for you, then this receiver checks all the other boxes and then some.
Pros
Great Audio Quality
Connectivity options
Plays the latest video formats
Wireless and smart features
Cons
No Dolby Atmos or DTS: X support
No phono port
Less Powerful
What I like about the Yamaha RX-V4A
I love that this A/V receiver offers you a little bit of everything- for movies, music, and gaming. It looks great too, with its modern design and rounded edges, and is easy to use and set up.
Great Audio Quality: Thanks to YPAO (Yamaha Parametric Room Acoustic Optimizer) Yamaha's proprietary room correction software you can optimize your audio settings to suit your room. The Cinema DSP 3D feature and the High-Slew Rate amplifier, help to boost the quality of your audio.
Plenty of connectivity options and supports the latest video formats: You can get the best picture quality from your new TV, games, or Blu-ray player as it supports 8K/120p and 4K/60p in all 4 of its HDMI inputs and has pass-through for HDR10+, HDR 10, Dolby Vision and HLG, Dolby True HD, and DTS HD.
Includes wireless and smart features: WiFi and Bluetooth are built-in so you can connect wirelessly to your smart devices (even to your Bluetooth headphones.)and use voice control with Alexa, Google Assistant, and Siri (through Airplay 2).
You can stream music using services such as Pandora, Spotify, Sirius XM, etc. The Compressed Music Enhancer, ensures compressed music files like mp3 retain their quality when you stream them to the receiver.
Yamaha's MusicCast: A neat perk- use it to stream music wirelessly, for multi-room audio or even to connect wireless surround speakers.
Latest tech for Gamers: Supports HDMI 2.1 features such as Auto Low Latency Mode (ALLM), Variable Refresh Rate (VRR), Quick Frame Transport (QFT), and Quick Media Switching (QMS) which contribute to a more immersive gaming experience.
What I didn't like-
No Dolby Atmos or DTS: X support- This is a real bummer for movie buffs -you'll completely miss out on the dramatic height effects of Dolby Atmos and DTS: X.
No phono port
May not be powerful enough for larger home theater rooms (It provides 5 x 80 watts of power)
Sony STR DH790
Sony STR-DH790 7.2-ch Surround Sound Home Theater AV Receiver
CINEMATIC SOUND AT HOME: Enjoy your favorite movies, TV shows and more with theater like sound in the comfort of your home

BREATHTAKING AUDIO: Dolby Atmos and DTS:X deliver multi-dimensional and object-based surround sound

STUNNING 4K QUALITY: 4K HDR pass through with support for Dolby Vision, HDR10, and Hybrid Log Gamma provides greater and clearer color, contrast, and brightness

GET CONNECTED: 4 in/1 out HDMI each and 1 optical / 1 coaxial digital and analog audio connections
My other top pick for this price range is the Sony STR DH790. This Atmos-capable receiver offers amplification for a 7-channel setup.
Pros
Plays the latest video formats
Flexibility in configurations
Virtual surround sound option
Auto Calibration
Cons
No Wi-Fi
No phono port
Not rated for 4 ohm speakers
What I like about the Sony STR DH790
Dolby Atmos and DTS: X from a reliable brand at an affordable price. Also features DTS Neural :X, an upmixing technology that expands the stereo 5.1 and 7.1 to multi-channels.
Flexibility in configurations: You could use it for a 7.1 or 7.2 surround setup with surround back speakers or go for a 5.1.2 Dolby Atmos setup with height speakers.
Alternatively, you could even use those channels to power a speaker set in another room.
Virtual surround sound option: Even if you just have two speakers, with the S. Force Pro front surround technology, you can still enjoy virtual surround sound.
You can get the best out of your audio equipment: You can optimize your audio with DCAC (Digital Cinema Auto Calibration) Sony's proprietary room calibration software. Auto Phase Matching helps to ensure every speaker in your room is in phase.
Integrates well with the Sony ecosystem. You can use Bravia Sync to use one remote with compatible Sony devices.
I love its sleek, space-saving design which is great for smaller home theater spaces.
What I didn't like-
Spring clip connections for the speaker terminals.
It does not have WiFi connectivity, only Bluetooth
It's not rated to drive 4-ohm speakers
No phono port
Best A/V receiver under $1000
As your budget increases, so do the number of features and channels of amplification.
Here's my top pick for an A/V receiver under $1000.
Denon AVR-X2700H
Denon AVR-X2700H 8K Ultra HD 7.2 Channel AV Receiver
UNMATCHED 3D REALISM FOR YOUR HOME THEATER SYSTEM – Enjoy Immersive surround sound with Dolby Atmos Height Virtualization and DTS Virtual:X and crisp, clean picture with advanced video processing, 8K/60Hz, and 4K/120Hz pass-through

GET THE MOST OUT OF YOUR 4K TV – Enjoy the highest quality 3D audio and video knowing that the AVR-X2700H is 8K READY WHEN YOU ARE. This high-power amplifier meets the most demanding entertainment needs with the latest technology available

NEXT GEN GAMING – Enjoy a smooth, lag-free gaming experience with spectacular imaging, reduced lag & frame tearing with 4K/120Hz pass-through, Variable Refresh Rate (VRR), Quick Frame Transport (QFT), and Auto Low Latency Mode (ALLM)
If you're looking for a great performing all-purpose receiver for under a grand, the Denon AVR- X2700H will not disappoint. A 7.2-channel amplifier, it comes packed with features for everyone.
Pros
Excellent performance
Connectivity options
Audyssey MultEQ XT
Amazing 3D surround sound
Cons
Only one port for Full 8K
Max power per channel only 95W
What I liked about the Denon AVR-X2700H
Great for movies, gaming, and music lovers: It has plenty of connectivity options, including a phono port. Supports the latest video formats to deliver superb video clarity and offers the newest tech for gamers (ALLM, VRR, QFT) for a lag-free gaming experience.
You can also play your favorite tracks wirelessly through streaming services such as Pandora, Spotify, etc, and enjoy multi-room surround sound through Denon's HEOS.
It has both WiFi, Bluetooth, and Apple Airplay 2 built-in. You can hear music both in your headphones and connected speakers simultaneously.
Audyssey MultEQ XT: One of the highlights for me is the Audyssey Room Correction feature which optimizes your audio by balancing out the different frequency levels based on your room's acoustics and your sound system. Although it's a basic version, you can really hear the difference once you use it.
Amazing 3D surround sound: You can enjoy the immersive effects of Dolby Atmos, DTS: X, and DTS Neural: X. It supports Dolby Atmos Height Virtualization technology and DTS Virtual: X – which give you virtual height effects even if you don't have the height channels.
Other features: Voice control is available through Alexa and Google Assistant and Siri through Airplay 2.
What I didn't like-
Full 8K support is only through 1 port.
The power is 95 watts per channel which is lower than others in the price range.
Best A/V receiver under $2000
If you're willing to shell out a little more for higher quality and more features, but don't want
to go over two grand, the Onkyo TX RZ50 is a real winner.
Onkyo TX RZ50
This powerful 9.2-channel receiver does it all. It delivers an enveloping 3D movie experience, is amazing for music listening, and even has exciting gaming features.
Pros
Excellent performance
THX certified
Outputs for 11 speakers
Future proof
Advanced room correction
What I like about the Onkyo TX RZ50
The Onkyo TX RZ50 is both feature-rich and future-proof- my favorite two qualities in a gadget.
Has all the features and latest tech you need for a high-quality movie, music, gaming, and your wireless streaming requirements. There's also two-way Bluetooth for streaming as well as listening. Voice control with Google Assistant and Alexa.
Great support for Dolby Atmos and flexibility in the configuration: This IMAX-enhanced, THX-certified receiver is perfect for recreating the cinema experience at home with Dolby Atmos or DTS: X. (height virtualization included) It has outputs for 11 speakers, of which you can power 9 at once and you can configure it as you wish- as 5.1.4 Dolby Atmos or a 7.1.2. You can even add an external amplifier to it.
Future-proof with multiple connectivity options that support the latest video formats: What I love is the fact that the 6 HDMI in and 2 outs in the rear are all 8K compatible (8K/60Hz and 4K/120Hz) and the one in front supports 4K/60Hz.
High-quality room correction with Dirac Live: Thanks to Dirac Live's highly rated advanced room calibration AccuEQ, (includes the microphone) you can fine-tune your audio to suit your room. Audiophiles will love the control they get with this feature.
Multi-room audio.
Sonos port compatible with the Sonos app
What I didn't like
Not much to complain about considering the value you get for this price. Perhaps the remote control could have been of better quality.
Conclusion
These were my top choices for receivers that, in my opinion, give you the most value for your money. My advice would be to carefully examine your requirements- i.e. your budget, what you'll mainly use the receiver for, the inputs you need for your devices, the number of channels you require amplified, and which features are most important to you. Once you've figured that out, your choice will be much easier.
Thanks for reading! Check out all my recommended home theater equipment.