As an affiliate, I may collect a share of sales or other compensation from the links on this page.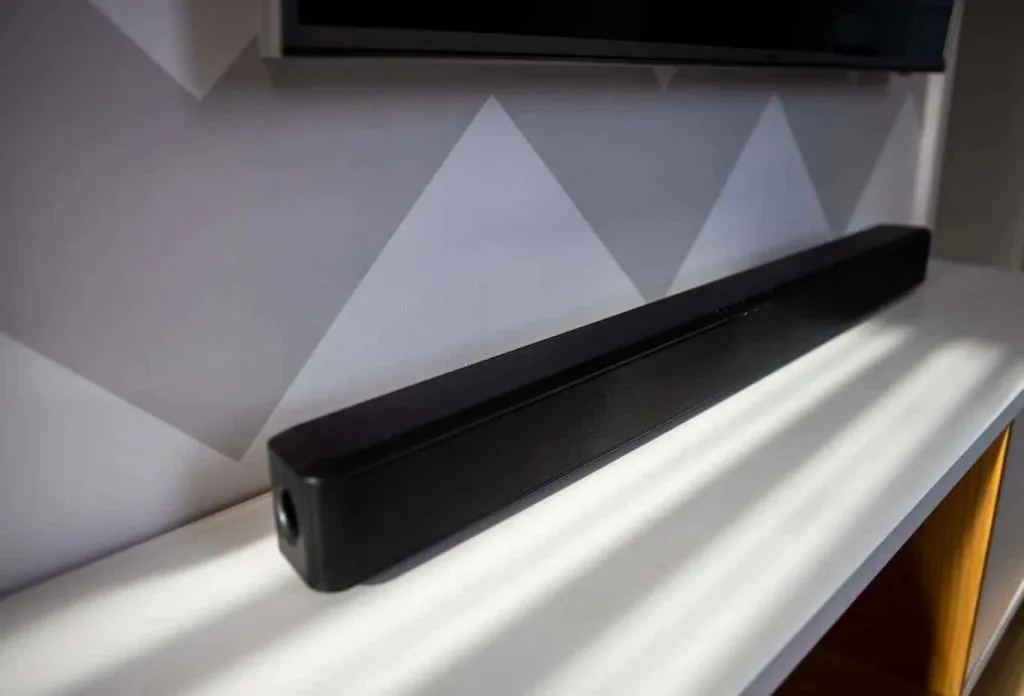 Who doesn't love the look of an ultra-sleek flatscreen TV? But as television sets go super slim, a casualty of that thin design is the quality of the TV audio. Enter the soundbar-the easiest one-stop solution to upgrade to audio that is worthy of your new TV.
The wealth of options available in the market might leave you scratching your head as to which is the best choice for you. Worry not, we've done your homework for you. Here's a quick list of our winners: Click on the links to check the current prices on Amazon.
Our picks are based on superior sound quality, level of immersion, versatility, and smart features. We looked for soundbars that have room-filling sound that works well for both movies and music.
We've tried to keep it balanced too- while we are gaga about these soundbars, we've also pointed out their drawbacks to help you make an informed decision. So let's dive in.
1. The Best high-end soundbar (Under $1500)
SAMSUNG HW-Q990B/ZA 11.1.4ch Soundbar
WIRELESS DOLBY ATMOS

TRUE 11.1.4ch SOUND

Q-SYMPHONY: Perfectly synchronized, fully immersive audio

SPACEFIT SOUND+: Get room filling sound designed specifically for your space

UP-FIRING REAR SPEAKERS: Fill the room with theater like sound

AIRPLAY 2 & ALEXA BUILT-IN

ADAPTIVE SOUND: Enjoy dynamically optimized audio with enhanced voice clari
Samsung HWQ990B
Our top pick here is Samsung's flagship soundbar, the Samsung HWQ990B. This soundbar comes with a subwoofer and two rear speakers and is capable of playing back the deeply immersive Dolby Atmos and DTS: X formats.
What we like:
The sound from this 11.1.4 channel soundbar consisting of 11 front and surround channels,1 subwoofer channel, and 4 upward-firing channels is spectacular. So much so that it can rival a traditional surround system!
Connectivity options are also great. In addition to Bluetooth and WiFi support, you get 2 HDMI inputs, an optical port, and an HDMI eARC connector so you can use your TV remote to control it. Amazon's Alexa is built-in and you can stream music through Airplay 2.
We love the fact that the SpaceFit Sound+ feature tailors the audio to suit your room's acoustics.
And if you own a high-end Samsung TV, there are several more benefits you can reap. For one, you can get TV audio wirelessly with Dolby Atmos sound. With Q-Symphony you can also sync the soundbar audio with your TV's audio.
Another cool feature if you have a Samsung phone- you can use Tap Sound by simply tapping your phone over the soundbar and it will seamlessly sync audio from your phone.
But even if you don't own a Samsung TV, the sound quality is still quite exquisite. The dialogue comes out crystal clear and the bass is tremendous. The volume range is pretty large and can fill any room-regardless of its size. The best part- the experience is equally fabulous for both music and movies.
What we didn't like
The only downside, apart from the high price, is that the power chords of the rear speakers are quite short, so you'll have to get creative when you connect the two to power sources.
2. Best value-for-money Soundbars (Under $1000)
The soundbars in this category are loaded with features and give you amazing room-filling sound thanks to their upward-firing speakers.
Vizio Elevate- P Series
VIZIO Elevate Sound Bar
Truly immersive audio

18 high-performance speakers Unrivaled home theater performance.

Adaptive Height Speakers Automatically rotate to optimize your audio experience.

Dolby Atmos and DTS:X: Cinematic sound around and above.

4 Upfiring Speakers Reflects enveloping sound overhead off your ceiling.
The Vizio Elevate is a 5.1.4 channel soundbar that includes a subwoofer and dedicated surround speakers.
What we like
The Vizio Elevate comes with a unique, exciting feature- it has motorized rotating height speakers that pivot upwards for Dolby Atmos and DTS:X content and then go back down for standard 5.1 or stereo audio.
It may seem gimmicky, but the results speak for themselves. This feature allows you to enjoy the best of Dolby Atmos and DTS:X content and when the content is in other formats such as stereo, the height speakers move down to augment the audio.
As for connectivity, the Elevate does not disappoint. It has 2 HDMI inputs, and 1 HDMI eARC, along with Chromecast built-in, Bluetooth, and WiFi music streaming.
Audiophiles too will like the control it allows for fine-tuning.
What we don't like
The Elevate is not a smart speaker, although you can connect one to it. The bass tends to be on the heavier side, so you need to properly position the subwoofer (read my article on how to find the best placement for your subwoofer). There's no Airplay 2 either.
Sonos Arc
Sonos Arc – The Premium Smart Soundbar
3D sound with Dolby Atmos

Tuned to perfection - Enhanced Trueplay tuning technology optimizes the sound for the unique acoustics of the room.

Immerse yourself in the music - Stream music, radio, podcasts, and more from your favorite services with the Sonos app or Apple AirPlay 2 when the TV is off.

A truly powerful soundbar - Eleven high-performance drivers produce vivid detail and impressive bass.
The Sonos Arc is a 5.0.2 channel Atmos system consisting of 5 horizontal channels and 2 upward-firing speakers. It's a pretty wide, longish soundbar and is designed to pair with a large-screen TV. (55 inches and above)
What we like
The Sonos Arc doesn't just look good, it sounds fantastic too. A minimalist surround sound all-in-one package, it supports Dolby Atmos, True HD, and Dolby Digital Plus.
Its upward-firing speaker creates a 3D effect and the voice clarity is amazing. Control it through the Sonos app on your phone or through voice assistants like Amazon's Alexa or Google Assistant. You can also stream music from your iPhone via Airplay 2.
Setting it up is easy and you have the flexibility to build on its home theater capabilities by adding other Sonos speakers such as a subwoofer(Sonos sub-gen 3) and surround satellites (One SLs).
What we don't like
Apart from the HDMI ARC port to connect to your TV it has no other HDMI inputs. It also lacks Bluetooth and DTS: X support.
3. Best Soundbars for Under $500
These are three soundbars we picked that give you bang for your buck.
Vizio M-Series 5.1 Soundbar (M51a-H6/M51ax-J6)
If you want all the effects of Dolby Atmos but are a budget, the Vizio M-Series 5.1 Soundbar (M51a-H6/M51ax-J6) is a wallet-friendly option that doesn't let you down. It includes five channels with one subwoofer and an additional two upward-firing Atmos speakers.
What we like
This soundbar is a workhorse that gets the job done. While it may not have the finesse of the more expensive soundbars, it gives you a truly immersive audio experience.
A great choice for both movies and music, it offers both Dolby Atmos and DTS:X support. Connectivity options are many- it has 2 HDMI ports, one HDMI ARC, 3.5mm, optical, Bluetooth, USB, etc.
What we don't like
There is no WiFi support, although Bluetooth is available. The drawback here is that through Bluetooth you may have a loss of audio quality when streaming music from Spotify or Apple music.
Sonos Beam gen 2
Sonos Beam (Gen 2) smart soundbar
Enrich your entertainment experience with vibrant bass, crystal clear dialogue, and a panoramic soundstage.

Experience a 3D surround sound effect with Dolby Atmos.

Stream music, radio, podcasts, and audiobooks over WiFi when the TV is off.

Control with the Sonos app, your TV remote, Apple AirPlay 2, and your voice.

Effortless setup with only two cables and smart Trueplay tuni
If you're looking for a compact standalone soundbar, you might consider going with our next pick- the Sonos Beam Gen 2 which has five-channel audio processing.
What we like
This Atmos-capable soundbar is sleek, compact, and simple to set up. It's also easy on the eyes. Considering its small size, it packs in quite a lot of power.
The Sonos Beam Gen 2 has smart capabilities too. It has built-in support for Alexa and Google Assistant, as well as Sonos voice control. It's also compatible with most streaming services (Airplay 2, Spotify connect). It is also WiFi enabled
Like the Sonos Arc, it integrates well with the Sonos ecosystem so you can combine it by adding a wireless sub and surround speakers.
Though it doesn't have upward-firing drivers, it compensates for their absence by using psychoacoustic HRTF to give the impression of height in Dolby Atmos sound. This benefit is extended when you use it to play music from Amazon music unlimited.
What we don't like
There's only a single HDMI eARC port which doesn't always perform so well. It also comes up short in terms of low bass and is limited in its volume capacity.
Other downsides- it does not support DTS:X nor does it have Bluetooth connectivity.
Polk MagniFi Mini AX Sound Bar
Polk MagniFi Mini AX Sound Bar
POWERFUL SOUND FROM AN ULTRA COMPACT SOUND BAR

COMPLETE WIRELESS HOME ENTERTAINMENT

HEAR EVERY WORD CLEARLY

INCLUDES A PLUG-AND-PLAY WIRELESS SUB

EASY SETUP AND UNIVERSAL COMPATIBILITY

EXPAND YOUR HOME THEATER SYST
Another alternative to the Sonos Beam Gen 2, is the Polk MagniFi Mini AX a 2.1 setup with a wireless subwoofer that comes loaded with many features.
What we like
The Polk MagniFi Mini AX is as unobtrusive as soundbars can go. Ideal for small spaces, it is Bluetooth-enabled, supports Dolby Atmos and DTS: X, and is also compatible with most streaming services. You'll be surprised by the powerful sound that comes from a speaker this small.
Vocal clarity is pretty good for its size and the subwoofer packs a good punch with its booming bass.
What we don't like
This soundbar doesn't come with any wall mounts and only has HDMI eARC/ARC, optical, and aux ports. Since the surround sound is virtualized, it doesn't sound as good as soundbars with upward-firing drivers.
Best Budget Soundbar ( Under $200)
Vizio M-Series- AiO (M213ad-K8)
This 2.1 setup is a wallet-friendly option that provides surprisingly good sound.
What we like
The Vizio M-Series- AiO (M213ad-K8) is aptly advertised for its 'minimalist design with maximum impact. With a built-in subwoofer, this all-in-one soundbar is convenient if you don't want the hassle of too many wires and gear around your house.
Connectivity options include Bluetooth, optical, and HDMI. Vocal clarity is good and it has ample bass with a good soundstage.
It supports Dolby Atmos and DTS:X using psychoacoustics to create virtual surround sound.
What we don't like
It has to downmix Atmos into stereo to play it and doesn't offer a deep level of immersive sound, though that is expected in this price range.
Conclusion
And that's a wrap! We've included what we think are solid performers in each price category that will give you the best value for your money. We hope you find these recommendations helpful.
Thanks for reading! Check out all my recommended home theater equipment.