Dolby Atmos has become a gold standard of audio technology in recent years. Despite relatively slow wide-scale adoption, it is now usable through Netflix, Apple Music, Windows 10, Xbox One, and so much more.
Since Dolby Atmos may seem nebulous or confusing at first, you might wonder if it's compatible with your headphones.
Dolby Atmos works with Bluetooth headphones and any other modern headphones. Using Dolby Atmos can enhance audio quality and listener immersion significantly. However, specific headphones make better use of this surround sound technology than others.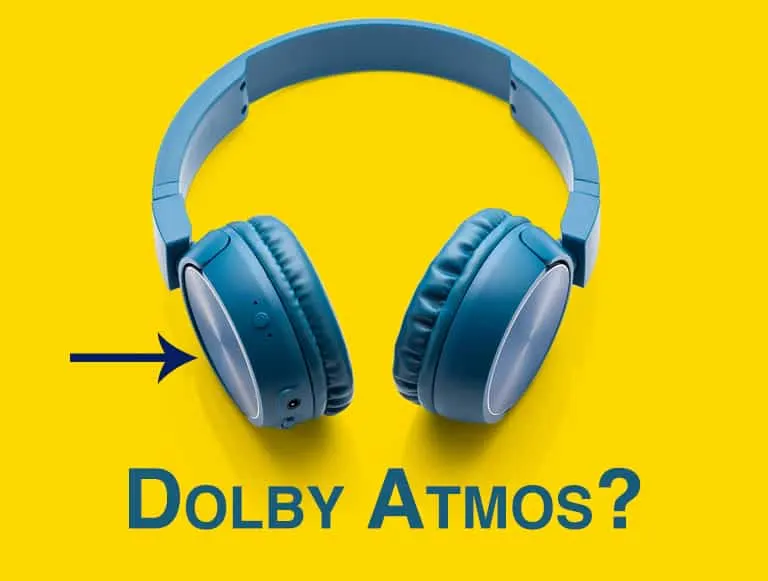 This article will explain Dolby Atmos on headphones, how it works, and which headphones are best for it.
While Dolby Atmos is a significant stride forward for surround sound technology, some consumers will get more value out of it than others.
Also read: Can Any Speaker Be Used for Dolby Atmos?
How Does Dolby Atmos Work With Bluetooth Headphones?
Dolby Atmos is a surround sound technology that simulates spatial audio at all angles around the listener. But how can your headphones sporting two speakers on opposite ears achieve such acoustic depth?
Dolby Atmos's secret is that it abandons the use of channels to simulate sound within a 3D space via software. The software interprets audio metadata first instead of relaying sound through your speakers, which is why it can bolster the performance of any pair of Bluetooth headphones.
Using Dolby Atmos with your headphones will make it seem like sounds come naturally from objects in space around you, enveloping you in a virtual audio world.
Here is a video that explains this more in detail:
How To Get Dolby Atmos
If you're eager to dive into this immersive soundscape, there are several ways to do so.
You can download the Dolby Access app to use Dolby Atmos on your PC for $14.99 per month, following a 30-day free trial. This price is accurate as of September 2021.
After a simple setup process, your Bluetooth headphones will sound like they are launching you right into the middle of your favorite video games and movies.
Listeners can also enjoy Dolby Atmos through various streaming services such as Apple Music and Netflix with qualifying subscriptions.
The Best Headphones for Dolby Atmos
I compiled a brief list below of some of the best headphones to use with Dolby Atmos. These products from Amazon.com can be a good launching point if you're in the market for headphones.
Don't worry if you're having trouble figuring out what makes these devices excellent for Dolby Atmos. Next, I'll cover the primary factors that influence how well headphones utilize the software.
What Kind of Headphones Are Good for Dolby Atmos?
Over-ear headphones are equipped with surround sound and are good for Dolby Atmos. Dolby Atmos is compatible with any headphones, but specific pairs designed for the technology will exhibit the best performance.
As brilliant as this technology is, some headphones delve deeper into the capabilities of the audio atmosphere than others.
For example, more expensive headphones ordinarily have more advanced speakers and noise-cancellation systems. Because of this, they provide superior acoustic performance overall, especially with Dolby Atmos-enabled.
There are a couple of other factors to consider when assessing headphone compatibility with Dolby Atmos.
Headphones vs. Earbuds
The level of immersion a listener experiences may depend heavily on whether they use conventional headphones or earbuds.
Due to their smaller size, earbuds commonly lack effective noise-cancellation technology. Outside noise disrupts the 3-dimensional nature of Dolby Atmos because actual objects and virtual ones can seem to layer on top of each other.
In comparison, conventional headphones often offer exceptional noise cancellation. Due to their larger size, they can also contain more powerful speakers.
Over-ear headphones, in particular, are fantastic for Dolby Atmos. Covering the ears helps the speakers emit noise from farther away, better emulating natural and immersive sound.
Surround vs. Stereo
While shopping for headphones, you'll notice them described as having either surround sound or stereo. Without getting too technical, both surround sound and stereo are forms of directional sound production.
Stereo describes audio coming from two channels on a horizontal plane, most commonly left and right. Surround sound adds to that by wrapping around the listener, providing audio from various other angles.
As a result, surround sound devices will typically better accommodate Dolby Atmos technology than stereo since they possess a more native acoustic range.
What Is Dolby Atmos?
Dolby Atmos is an audio technology that simulates 3-dimensional sound enveloping the listener. In other words, it creates the impression that you're in the center of an audio atmosphere where noises can seemingly materialize from any angle.
The versatility of Dolby Atmos has improved since first implemented alongside Disney's Brave in 2012. Initially meant for cinemas, it quickly evolved and now sees widespread use via home theaters and headphones.
This new surround sound technology is a marked improvement over the comparatively less dynamic standard surround sound and stereo.
How Dolby Atmos Works
As mentioned above, the foundation behind this technology is the construction of a virtual soundscape. Dolby Atmos translates audio into virtual objects floating in space around the listener.
These objects can exist along any plane, meaning that sound can come at the listener from any direction. When first made available to the public, the technology required specialized in-ceiling and upward-firing speakers.
The following video outlines the science behind Dolby Atmos.
Because of this, Dolby Atmos was primarily enjoyed early on by audiophiles with home theatres and money to spare.
Thankfully, the modular nature of modern Dolby Atmos means you can now enjoy it much more freely on any pair of headphones.
Conclusion
All Bluetooth headphones can use Dolby Atmos, and to genuinely remarkable effect.
Dolby Atmos is a dazzling audio advancement offering unparalleled acoustic immersion. Though you may potentially enjoy it with any headphones, some devices will undoubtedly utilize the technology more robustly than others.
If you're still on the fence regarding Dolby Atmos, you can always try it for free for 30 days.
Also read: Is Dolby Atmos Really Worth It?
Sources