It can take a lot of planning to build the perfect home theater. You want to make sure you have enough space, the screen size fits the room well, and that you have room to lounge. If you're unsure of what size room to choose, you have a lot to consider!
Here are the best home theater room sizes:
The most optimal size: 15 ft x 20 ft (4.57 m x 6.10 m)
The most common size: 10 ft x 12 ft (3.05 m x 3.66 m)
Fit for a small room: 8 ft x 10 ft (2.44 m x 3.05 m)
The smallest recommended size: 6 ft x 9 ft (1.83 m x 2.74 m)
The golden ratio for home theaters
The larger you can make the theater, the more space you'll have for concessions, tables, and guests. However, it's best to use the area wisely by choosing something that works the best for your home.
If you want to make the best home theater, be sure to continue reading! Also, check out Best Subwoofer Placement Options for Home Theater
The Best Home Theater Room Sizes
Everyone has a different amount of space available at home to dedicate to their theater. You'll want to make sure that you can fit a large TV screen or projector. Then, you'll need to ensure you can place the seating far enough away from the screen.
It's best to allocate as much space as possible to your home theater. That way, you can build an immersive sound system. However, suppose you don't have much space. In that case, you can still design an incredible home theater- how you place everything has the most significant impact.
There are many different home theater room sizes that you can use for a theater. You can also work with a room that you already have at home or install a new one. You'll want to set a budget to stick with before making any significant purchases for your new theater room.
Overall, you have an infinite amount of room sizes to consider! I made sure to include all of the best options on the list below. When researching room sizes, the following are the ones that home theater designers recommended the most:
1. The Most Optimal Size: 15 Ft x 20 Ft (4.57 m X 6.10 m)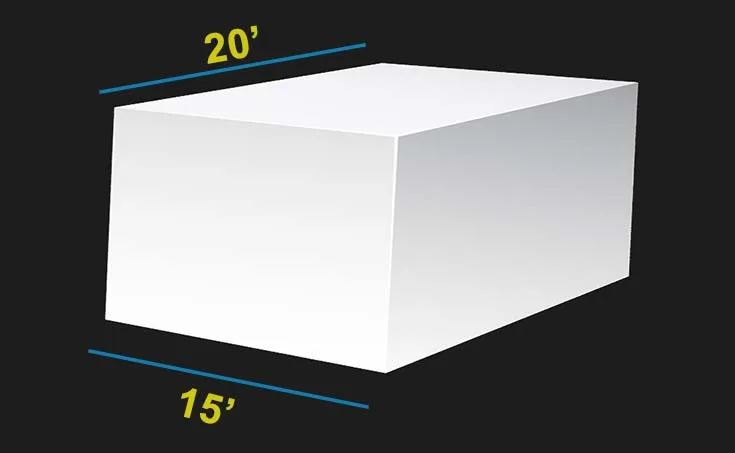 If you're looking for a completely immersive theater experience, the best size would have to be a 15 ft x 20 ft (4.57 m x 6.10 m) room. You'll have plenty of space for rows of seats, snacks, and many guests. This room size is the best if you want to use the theater often with your loved ones and enjoy it to its fullest potential.
This size is optimal for a home theater. With this amount of space, you can arrange the room as you please. You also receive plenty of wall space for a larger screen. Many people use home projectors in large rooms since they can somewhat adjust the projection to be the size of the wall.
The Epson Home Cinema (available on Amazon.com) is a great choice – you get 1080p resolution and quality sound. It also has a built-in lens shift that allows you to change the image position without moving the projector.
This amount of room space also allows you to add a high-quality sound system. You can fit 7.1 surround sound, which has seven speakers and a subwoofer. Using this technology will make you and your guests feel completely immersed in the viewing experience.
Finally, this amount of space is excellent for using stadium seating. This seating arrangement allows your guests to see over the top of one another, making it great if you plan on having many rows of chairs in your audience.
Overall, this option is seen as the best by many home theater designers. You can fit several rows of seating and still have ample space for concessions or a bar. It allows you to comfortably fit all of your loved ones for a fun movie night! However, don't worry if you don't have a room this large; there are plenty of other options for you to use.
2. The Most Common Size: 10 Ft x 12 Ft (3.05 m X 3.66 m)
This room size is one of the most common for home theaters today. Many theater speaker manufacturers recommend that your room is at least 10 ft x 12 ft (3.05 m x 3.66 m) in dimension for optimal installation. With this amount of space, you can also sit comfortably away from the TV screen. You won't feel overwhelmed by the size of the TV or the sounds.
You also have a decent amount of space for concessions and tables, depending on how you layout the seating within the room. The most common arrangement includes three rows of three chairs. Keep in mind that you'll need to space the chairs further apart if they recline.
With this amount of space, your guests should still feel very comfortable. You won't have as large a screen as you would with the 15 ft x 20 ft (4.57 m x 6.10 m) room, but everyone should still be able to see the movie.
In short, this is the second-best room size. You'll want to calculate the distance between the screen and your seating using the following method: place your seating between 1.5 and 2.5 times the diagonal screen size away. Using this tip will help you determine where to place the seating in any room size!
3. Fit for a Small Room: 8 Ft x 10 Ft (2.44 m X 3.05 m)
If you have a smaller room, you'll need a smaller TV screen as well. This room size is still great for viewing and offers good acoustics. However, you probably won't have much room for concessions or tables. Instead, you'll want to encourage your guests to bring their food and drinks into the theater with them from somewhere else.
You'll also need to dedicate a lot of time to choose your room layout. You'll want to carefully consider where you place the seating, how many seats, and what type of seats you use. In smaller areas, you'll need to take more time arranging everything so your visitors don't feel cramped in the space.
An 8 ft x 10 ft (2.44 m x 3.05 m) home theater also works very well with many different TVs and sound systems. You can still use surround sound, although you may have more luck using stereo sound systems due to the smaller space you have to work with.
No matter the amount of space you have for the theater, you're sure to enjoy using it! You'll want to focus on comfort and the design of the room. That way, your guests are sure to have fun in your home theater.
Other Size for Home Theater: 8.5 Ft x 10 Ft (2.59 m X 3.05 m)
If you want to enhance the room's rectangular shape for acoustics, simply adding ½ ft (0.15 m) of space to the dimensions will assist you greatly. It's even better if you have a ceiling that is at least 9 ft (2.74 m) high.
This option isn't much more significant than 8 ft x 10 ft (2.44 m x 3.05 m), but the slight difference can cause the room development to cost a bit more. You'll want to consider your budget and choose accordingly.
4. The Smallest Recommended Size: 6 Ft x 9 Ft (1.83 m X 2.74 m)
This room size is the smallest amount of space that most home theater designers would recommend. You still have enough room for a pleasant seating arrangement. However, you can probably only fit two rows instead of three.
You can also still fit large TVs into this space, so your viewing experience won't suffer. You should still be able to add a high-quality sound system. Although, you may not have enough room for a full surround sound. You'll want to look at the stereo options you have instead.
You should be able to fit high-quality speakers. I recommend looking into the Dual Electronics Outdoor Indoor Speakers (available on Amazon.com). The product offers fantastic sound and uses 4-in (10.16 cm) subwoofers to provide a full range of sound. Using good speakers will help build the immersion in your smaller home theater room!
Making a Small Home Theater
You can technically turn any room at home into a mini theater. I recommend that you use blackout curtains, dark room paint, and dark carpeting. For the best experience, you should focus on placing the seating an optimal distance away from the screen. Keep in mind; you'll probably only have room for one row or a sofa.
Many families will add their small theaters to their attic or basement. If you're going to install one in an established room at home, you'll want to make sure that you add more insulation and sound dampening systems. That way, you can get the best from your sound system without bothering the neighbors.
The Golden Ratio for Home Theaters
You may have more space than 15 ft x 20 ft (4.57 m x 6.10 m) available or less than 6 ft x 9 ft (1.83 m x 2.74 m). In those cases, it's best to use the golden ratio for rooms. This formula will help you determine what room dimensions will give you the best viewing experience and space for sound systems. Overall, it's worth considering if you don't have any of the measurements mentioned above available.
The Golden Ratio
According to L.W. Sepmeyer, there are many different ratios that you can use to build a room. The ratios he came up with were developed by studying the wavelengths of sound and how it travels through rooms of different sizes.
If you use one of the ratios, you're sure to receive a better sound experience. The most widely accepted golden ratio for home theaters uses the following formula:
1H (Height) x 1.28H (Width) x 1.54H (Length)
L.W. Sepmeyer researched more formulas, but choosing just one to be correct is difficult. You should consider using the golden ratio when building your home theater for the best sound experience! The ratio is based on the room's height, depicted as "H" in the formula above.
Let's work out an example together. Say you want the room to be 8 ft (2.44 m) tall. The width should be 1.28 times the height, which comes out to be 10.24 ft (3.12 m). The length would be 1.54 times the height, which is 12.32 ft (3.76 m).
Maybe you have less space to work with. You can take the height of your room and plug it into the formula; no matter what the number is, you'll receive the dimensions to use as a result. If you can't make the room dimension exact, getting close to the result is alright! You should still receive plenty of acoustic benefits.
Does the Shape of the Theater Room Matter?
This question is one that I see a lot. The shape of the room can impact how sound travels somewhat. If you want the best acoustics, you'll need to consider the shape of your theater room too.
The shape of the theater rooms matters. Your home theater should never be a perfect cube. Sound will bounce around in a cube, giving you an annoying echoing effect. Standing waves can also occur, causing pockets with higher sound levels. To avoid this, you can use a rectangular room or other shapes.
If you aren't building your home theater room from scratch, you can still use drywall and other construction materials to adjust the shape of the space. That way, you won't have a cube-shaped room.
However, not everyone can change the shape of their room. You should still be fine as long as you don't have a perfect cube – even a few feet of adjustments can help you avoid the pressure from standing waves. Many home theater experts recommend the following shapes for a theater:
Rectangular
Trapagon
Cuboid
Determining the Amount of Space You Need
While you likely want as much space as possible to go towards your home theater, it's essential that you consider the size of your screen and how you want to arrange the seats. Your TV screen will come with recommended viewing space – you should have that amount of room, at least.
Next, you want to make sure you have plenty of space for your seating. If you're only planning on having a few loved ones watching movies with you at a time, then a smaller theater is going to be perfect.
However, you may need to splurge in a large room if you want large watch parties. You'll need to add a minimum of 20 in (50.80 cm) of space between each row if the chairs don't recline.
Finally, if you want to add a bar or place for concessions, make sure to add some additional space. You'll likely want at least 5 ft (1.52 m) added on for a bar.
The Smallest Size for a Home Theater
You can make your home theater as small as you'd like. However, if you want the best movie viewing equipment, I recommend not going much smaller than 6 ft x 9 ft (1.83 m x 2.74 m).
It's also best to choose the TV screen first, so you know it'll fit. Projectors usually display too large for small rooms.
If you do have a small, cube-shaped room, you may want to consider adding bass traps. These devices help stop standing waves. The bass traps are an acoustic panel that absorbs sound waves and offers you a better movie experience.
So, you'll want to make sure you add one to a smaller home theater, especially if you can only go with a cube shape.
I recommend the True North Bass Traps (available on Amazon.com). They come with adhesive and are very easy to install into the corners of your home theater.
How To Choose a Size for a Home Theater
First, start by considering all of the options listed above. Take the measurements of the seating you want to add and the distance you need to place them from the screen.
Then, add the 20 in (50.80 cm) between the seats. From there, you can determine what sizes will work the best for you.
If you don't yet know what size of screen you'll use in the theater, you should first determine that information.
You should base your theater on the screen that you want to use, so you should make sure you know the measurements of the screen first.
Cost of the Home Theater
Your individual budget will also impact the amount of space you can change into a home theater.
If you only want the most basic theater in a room you already have, you could be looking at spending only $2,000 for a screen and a couple of chairs.
However, if you want a more elaborate home theater, you'll likely need at least $15,000.
For those who wish for the most immersive movie experiences with the most prominent theater rooms, you could easily spend up to $30,000. This amount includes adding the new space, a TV, and several rows of seating.
Many people feel that determining the exact cost of a new home theater is very difficult. The amount you spend depends on the quality of the equipment you purchase and any construction you have done.
Final Thoughts
So, if you want the best home theater room sizes, make sure to go with one of the above options!
When you can't choose from the sizes, you can always work with the golden ratio for rooms. This ratio allows you to customize the dimensions while still maintaining excellent acoustics and viewing experience.
Overall, you can make your home theater any size that you want! I suggest considering how many people you want to fit in the space, then going from there.
If you want more than three or four people, consider going a bit larger than you initially expect.
Sources