With so much top-notch content available on streaming platforms, it's no wonder you would want a dedicated home theater space to maximize your enjoyment. You want the best possible viewing experience in your home theater room, so which color should you paint it?
The best wall colors for your home theater are darker shades such as black, gray, brown, and burgundy as they can help reduce glare from the screen and enhance the contrast between the wall and screen, so colors appear more vibrant.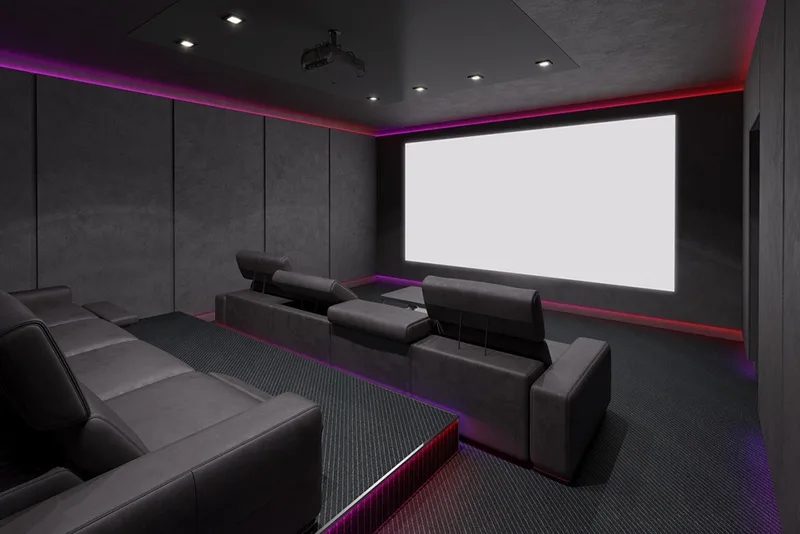 Of course, since you're looking to create the perfect home theater experience, you'll need to find colors that strike a balance between aesthetics and functionality. You want a color that will help you get the clearest image possible while also creating the right ambiance.
And that will depend on how you plan to use the room as well as your own personal preferences and taste.
In general, it is better to choose darker colors as they help to reduce reflected light from the screen and make the image appear more defined and vivid. They draw attention to the TV or projector screen as the centerpiece of the room, adding to the cinematic effect.
Since darker shades provide the best results, we've compiled a set of options for you, along with their pros and cons, so that you can decide which color best suits your style and personal requirements.
Also read: Best Wall Paint (Type & Color) for a Projector Screen
The Best Wall Colors for your Home Theater Room
Here are the best wall colors for home theater that will give you the best home theater experience.
1. Paint it Black
Painting your home theater wall matt black is a great way of framing your TV or projector screen. The TV or projector screen will stand out, becoming the focal point of the room.
Since darker colors tend to absorb more light, with the wall painted black, the contrast between the screen and wall will be greatest compared to other colors, making the image pop.
With black, you also have the freedom to add other colors as accents.
You should paint your wall black if you:
Mainly watch movies at night. Black walls will give you the best image quality possible and will enhance your immersive experience.
Have a dedicated home theater room: If you are only using the space for watching movies and it will not be used for other activities.
For a stylish, modern look.
If you've decided to make a man cave.
The downsides of painting your wall black:
Since black will absorb a lot of light, the room will be very dark, almost dungeon-like. You might even find yourself stumbling to get to the remote. You might find it too gloomy if you plan to use it during the day or for other purposes.
Black walls during the day can be a bit intense and cause a strain on the eyes.
Your room can end up feeling box-like as black walls can make the room appear smaller than it is.
Maintenance of black walls is also not so easy. They easily show scuff marks.
What we suggest:
You can just paint the wall behind the TV or screen black and choose a different color (preferably neutral or near-neutral) for the rest of the walls. That will brighten up the room. Pairing black with gray also creates a cool, modern look.
2. Shades of Gray
If you're looking for neutral tones and a more contemporary aesthetic, gray is the color for you. It effectively reduces light reflection, creates a soothing effect, and will go with most interiors.
You should paint your wall gray if you:
Use the room for other purposes: Gray walls are conducive for TV viewing and gaming both during the day and night.
Want flexibility- Gray is versatile, works well with different lighting schemes, and gives you the freedom to play around with your decor.
Want a modern, minimalistic look: A neutral color, gray gives you a neat, sleek look that can easily blend in with the rest of your home and will look good with your gadgets.
The downsides of painting your wall gray:
Very light shades may reflect light too much and end up distorting the colors on your screen.
The room may appear bland and uninviting.
What we suggest:
If you're planning on painting your walls gray, make sure it's a darker shade. Choose the darkest shade for the wall behind your screen.
To liven up the look of your room, you can add accents, go for an analogous color scheme using colors that are similar to gray or use different shades of gray to add depth. It really depends on your personal preferences.
3. Timeless Browns
If you're looking for an earthy, rustic vibe, brown is a great choice. Brown is a warm, inviting color, and adding wood elements can give you a classic, vintage feel.
You should paint your wall brown if you:
Use the room to hang out with friends and want it to have some warmth
Want a more traditional look
The downsides of painting your wall brown:
The room can end up looking dark
Sometimes it's difficult to get the right shade to match it.
What we suggest:
If you're down with brown, choose another accent shade to add interest. Be careful that it does not dominate the room.
You can also think of adding multiple shades of brown to your decor to add texture. Some like to use a faux leather technique. Subdued blues also combine well with brown.
4. Deep reds and Burgundy
If you love the luxurious feel of a traditional movie theater with its burgundy drapes and dim lights, painting your walls in shades of deep red and burgundy can help recreate that atmosphere.
Adding a dash of gold accents can add to the vintage vibe.
You should paint your wall burgundy if you:
Prefer a timeless, classic look that's also warm and cozy
Have a large home theater room and watch movies at night
You want a color that provides interest as well as absorbs light.
The downsides of painting your wall burgundy or deep red:
It can easily clash with other colors in the room if not paired well.
It may not match everyone's home decor
It can make the room seem darker and requires additional lighting
It may not provide the ambiance you want for gaming
What we suggest:
If you're going to choose burgundy, consider all the other furniture in the room to make sure the walls do not clash with the furniture. If your room is small, add adequate lighting.
5. Dark Blue Hues
Dark blues provide a similar effect to black, not only will you get great contrast and image quality, but it will also add visual interest to your room during the day. You can go for a nautical theme or pair it with brown for a sophisticated and elegant look.
You should paint your wall dark blue if you:
Want a home theater room for both casual daytime viewing and late-night movies.
Like cool tones and want the space to be soothing and calm.
Are looking for a versatile color that works well with both contemporary and traditional decors.
The downsides of painting your wall dark blue:
It can make the room seem darker and requires additional lighting
Like black walls, dark blue walls also show scuff marks easily.
It can make the room appear smaller
What we suggest:
Take into consideration other colors and design elements in the room so that they complement each other. Pairing it with a white trim will give you a refined look. Use a paint with an eggshell finish so it can easily be cleaned.
What to keep in mind while painting your Home Theater walls
Avoid paints that have a gloss, semi-gloss, or satin finish as these tend to bounce off light more. Instead, choose a matte finish or eggshell finish as they tend to be absorptive and reduce glare.
Prefer darker shades to light as they provide better picture quality compared to lighter shades. Lighter shades can end up reflecting too much light from your screen and the image can appear washed out, spoiling your viewing experience.
Neutral, or near-neutral dark shades give you the best results. Avoid bright colors as they can reflect back tinted light onto the screen which can distort the image.
It is not necessary that you paint the whole room in one color. If you don't want the room to be too dark, you can instead choose the darkest shades for the areas closest to the field of view of the audience- i.e. the wall behind the screen and the ceiling.
Painting the ceiling black will help reduce reflection because the ceiling is usually the closest reflective room surface to the screen.
Before you finalize your wall colors, there are many paint visualizer tools available online that you can use to get an idea of how different color combinations will look in your room.
You can also play around with color generators such as colorffy that generate color schemes such as complementary, analogous, monochromatic, etc.
If you're stuck for ideas, here are some popular paint shades- limo leather, tricorn black, peppercorn, grizzle gray, stealth jet, gray matters, arctic seal, digital, indigo batik, bison brown, classic burgundy, chianti, etc.
Conclusion
To sum up, the right choice of color for your home theater room will mostly depend on your own personal preferences. However, you want the color to enhance your viewing experience, rather than detract from it. So be sure to stick to darker, neutral colors- at least for the wall behind the screen and the ceiling.