8 Best Materials for Outdoor Projector Screen
With the return in popularity of drive-in movie theaters, it's no surprise that many people want to stream movies outside. If you're looking to add an outdoor projection screen, then we've got a list of the best materials for you to use.
Best Materials for Outdoor Projector Screen
Here are the 8 best materials for an outdoor projection screen:
Projector screen paint
A white sheet
Inflatable screen
Blackout cloth
Outdoor fabric
Trapeze
Tarp
Spandex
Let's take a closer look at these materials and why they're great for outdoor projection screens.
Also read: 6 Cheap Projector Screen Alternatives
1. Projector Screen Paint
Projector screen paint can make your outdoor theater building experience so much easier. It allows you to create a screen without needing to mess with any fabrics.
Traditional paint absorbs light while reflecting a small amount of it. On the other hand, projector paint reflects a lot more light, which allows the screens to project more vividly.
If you plan to paint a surface with projector screen paint, make sure that you smooth the surface first. Any rough surfaces can negatively affect the projection quality. So, work with a smooth surface.
Projector screen paint can be used on many different surfaces, allowing you to make your own screen out of many different surfaces like the side of your home, a wooden board, or anything you have available in your home.
This material also gives you the ability to choose different locations for your theatre under the stars.
You won't need to move your screen around – instead, you can simply paint a few different surfaces and move the projector around as needed. This is going to be the most versatile option.
If you're looking for a reliable brand to try, I recommend the Digital Image Screen Paint from Amazon.com.
This quart of paint is enough to cover an 8 by 5 inch (20.32 by 12.7 cm) screen twice, so you're getting an amazing bang for your buck.
Paint allows you to cover a surface and not rely on a screen. Screens can tear and may not last in the elements, but screen projector paint will last longer than an ordinary screen because it doesn't wear out as quickly.
2. A White Sheet
A white sheet is a common material that you may already have in your home and serves as one of the easiest options for setting up your outdoor projector screen.
Sheets of other colors may work as well. However, you should be aware that images show up best on a white background, which is why we recommend a white sheet.
Other light colors like yellow or baby pink may work in a pinch, but make sure you stay away from dark colors.
It's difficult to project a screen onto dark colors as it won't show up well. Using a dark sheet can work if you have nothing else to use, but you need to ensure there's no other light aside from the projector.
Projectors aren't able to stand out from a dark background if there's another light source around. Unless you can get rid of every other possible light source, black and other dark-colored sheets won't work for you.
Remember that the smoothness of the surface matters when projecting. So, wrinkles in your sheet will distract you from the projection and make it more difficult to see.
It's best to use a white sheet that has as few wrinkles as possible or a sheet that has been ironed recently. This will ensure that your video is projected with the best possible quality.
You will also need to make sure that you have something to hang the sheet from to use it, and don't try to use a fitted sheet as they wrinkle naturally.
Consider attaching your sheet to whatever surface you're hanging it from as it may blow away in the wind. Safety pins are a great way to secure a sheet, but as long as your method keeps it in position, you can use anything available.
3. Inflatable Screen
Another great option for an outdoor projector screen is an inflatable screen. These are very versatile and can be moved around and carried with you anywhere you go. They work like inflatable yard decorations or bounce houses.
Inflatable screens also have built-in fans that keep them inflated for as long as you need them, then they can be easily deflated and put away for next time.
Ordinary projection screens can be difficult to deal with as they can't be collapsed. Larger screens are also challenging to move around either.
So, if you're using one outside, it'll take a lot of work to get it set up. However, inflatable screens are easy to inflate, and they can be deflated and put away to protect them from the elements.
If you're looking for an inflatable screen to use, I recommend the OUTTOY Inflatable Movie Screen from Amazon.com.
It comes with a storage bag to keep it safe while you aren't using it and a fan to inflate it that stays quiet. It also comes in 3 different sizes. The polyester fabric is made to be stored without wrinkling, and it can be washed if needed.
Setting up your inflatable screen is easy to do. All you have to do is plug it in, and the screen will inflate and be ready to go in seconds.
4. Blackout Cloth
Blackout fabric is a useful material for outdoor projection because it keeps light from traveling through it. So, it tends to reflect light better than ordinary cloth. Blackout cloth is also a lot more durable than ordinary cloth because it is thicker.
Some of the rules for sheets and other cloth apply to blackout cloth as well. For example, you'll want to do your best to ensure there are no wrinkles in your fabric because it can affect the quality of the projection.
Since blackout cloth is heavier, you may be alright with just leaving it to hang for a while to get rid of any wrinkles. If time is a factor, then you may want to pull out an iron.
You can get the best quality projection by ensuring that your cloth is a light color. When people think of blackout cloth, they often think about dark colors.
While this is a possibility, it isn't a requirement for blackout cloth. This fabric is also often available in light colors, like the curtains you find in a hotel room.
So, if you don't mind looking for something specific that will help with your outdoor projector, try to find a blackout fabric that can give you the best possible quality for a reasonable price.
5. Outdoor Fabric
Outdoor fabric is a little different from blackout fabric because it's made to be used outside. This means that it's able to be used effectively outdoors, and it'll last longer than other fabrics that aren't made to be used outdoors.
There are many different types of outdoor fabric that you can get which are waterproof. This is extremely helpful for outdoor fun because a little bit of rain doesn't mean that you need to rush inside.
Most projector screens can't be used outside because if they get rained on, they may fall apart or tear, but making yours out of outdoor fabric means that the show doesn't have to end.
Like with other fabrics, make sure that you're using a light color – white is always your best option. Also, be careful about wrinkles in outdoor fabric. Though it's normally heavy, it may still wrinkle if folded for too long.
Remember to lay it out or hang it to unwrinkle the fabric before you use it. Otherwise, the wrinkles may affect the picture quality.
Even though it's outdoor fabric, it shouldn't be kept outdoors at all times. If you know it'll rain hard, then moving it inside will help it last longer.
Also, keep in mind that anything kept outside for long periods will be at risk of damage from UV rays. Remember to move it inside in order to prevent any damage.
6. Trapeze
Trapeze is a more expensive fabric option, but it's great for projector screens. Trapeze fabric is stretchy and is great for do-it-yourself movie screens. It can be stretched or left to hang.
Stretching the fabric on the stand is a great idea for trapeze because it contains spandex, which makes the fabric stretchy.
With this setup, you won't have to worry about wrinkles in the fabric because they'll be pulled to prevent them. Trapeze is meant to be stretched, so pulling it tight won't rip or tear the fabric.
You'll get one of the best viewing experiences on trapeze because it's durable, stretchy, and long-lasting. If you choose white trapeze, then you'll be getting theater-quality material that's made for viewing movies.
If you want to stretch the trapeze fabric, consider buying a frame to hold it or building your own.
The Hzgang Projector Screen Stand from Amazon.com is a great option to hold your trapeze fabric. It even comes with hooks to hold your fabric so you can stretch it out.
7. Tarp
Unlike trapeze, a tarp is something that you may already have laying around the house ready to go.
As mentioned above, a white tarp is your best option – the white color will ensure the clearest picture quality possible.
However, if you don't have a white tarp handy, then a dark tarp can work. While you won't get as clear a picture with a dark tarp, it's still an option.
If your tarp incorporates holes in the design, it can be secured in place rather than draped. But both options work for an outdoor setup.
If your tarp doesn't have holes, then you'll need another way to secure it. After all, if you don't, the wind can carry your tarp away while you are trying to watch a movie.
Make sure you secure it before using it as your projector screen. Try pinning it down with clothespins to prevent the wind from carrying it away.
The only downside of using a tarp as a projector screen is the shiny finish. Tarp is made to withstand dirt, dust, and even water. Because of this, the finish is shiny and will glare if exposed to too much light.
This glare can be a nuisance as it may block some of the pictures when using it as a projector screen. So, be aware of this before using a tarp.
8. Spandex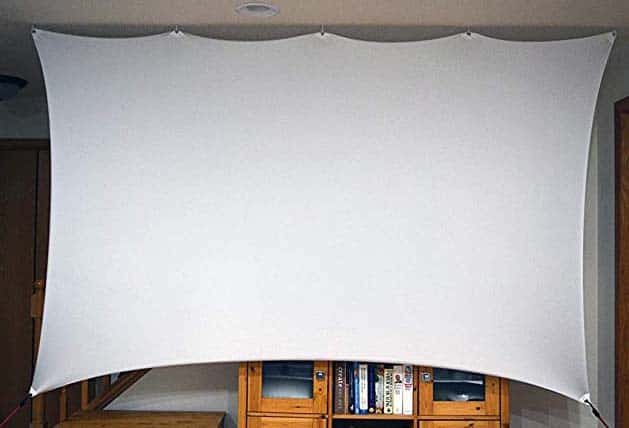 Spandex is similar to trapeze in many ways, but it tends to be cheaper and easier to find. It'll need to be stretched out in order to give you the best possible projection picture, as it's easily wrinkled when loose.
Once spandex is stretched, it'll give you a good quality picture as it won't produce glare or show wrinkles.
It's very lightweight and easy to move around if needed. So, once it's attached to the stand, it'll be easy to move it around and collapse it.
The easiest way to create a screen with spandex is to construct your own frame. Spandex needs to be stretched in order to get the best quality picture, so building and attaching it to a frame is the easiest option.
Since spandex is thin, any reflective surfaces behind your screen may be visible through the spandex. To combat this effect, add another sheet of spandex.
The two layers will help prevent glares and reflections from showing through and allow your audience to see the picture more clearly.
Both spandex pieces can be white, or the sheet behind the white one can be another light color like light gray or yellow.
Make sure you keep the white spandex in the front as you want the projector to reach that sheet first. If you can't double up the spandex, that's okay.
If this is the case, try to monitor what is behind your screen as reflective surfaces may show through. Try putting your screen against a mat surface that won't reflect the projection.
Final Thoughts
Having an outdoor projection screen is fun for the whole family. If you're setting up your own outdoor theater, you want to ensure you have the right materials.
Outdoor theaters are a little different from indoor ones since you need materials that can withstand outdoor use, including projector screen paint, a white sheet, and inflatable screen. Other materials you may need to invest in include a blackout cloth and tarp.
Check out my guide on How To Use a Projector Outside During the Day
Sources