How To Use a Projector Outside During the Day
Using a projector outside during the day is one of the most relaxing ways to enjoy a sunny afternoon with the kids. Imagine settling down to watch the latest flicks outdoors, with plates of freshly barbecued meat to dig into by your side. But how can you use the projector outdoors without issues?
Here's how you can use a projector outside during the day:
Make sure your projector can emit 3000-5000 lumens.
Get the perfect projector screen for outdoor viewing.
Clean the projector screen.
Get the audio equipment ready.
Wait for the perfect weather.
Go outside during the optimal time for outdoor viewing.
Set up in the best location.
Create extra shade if necessary.
Enjoy your movie.
The rest of this article will discuss each of these steps in more detail to help you prepare better for your movie afternoons out on the front lawn.
Check out my top recommendations for projector.
Also, check out my recommended projector screens.
How To Use A Projector Outside During the Day
Here are the earlier mentioned methods described in detail.
1. Make Sure You Projector Can Emit 3000–5000 Lumens
Lumens is the unit of measurement for brightness in certain lights, including projectors. It's one of the most important features to watch out for in a projector because its brightness determines the sharpness of images displayed.
Depending on how you mount the projector and where you intend to use it, 2500 lumens might be bright enough for watching shows outdoors in the daytime. However, projectors with 3000-5000 lumens are a perfect choice.
If your projector specs fall within this range, you can proceed with planning your outdoor sessions. Otherwise, you might have to buy (or hire) another projector. You can also choose to only watch movies outdoors at night.
If you'd like to buy a new projector, some excellent options to consider include (all from Amazon.com):
BenQ's TH685 is popular for its powerful built-in audio system that can work well outdoors. With 3,500 lumens of brightness, it's a good option for outdoor viewing.
It's lightweight, so you can throw it in your bag if you're thinking of a picnic movie session. The projector also supports movies in 4K format (although it will scale it down to 1080p).
The Optoma GT1080HDR is another portable projector you can rely on to deliver excellent imagery for outdoor movie sessions. It weighs less than 8lbs (3.6kg) and has 3,800 lumens of brightness.
As a short-throw projector, you have to position it around 40-43 inches (101.6-109.22 centimeters) away from the screen. While it may not be ideal for some people, such short-throw projectors ensure you don't have to worry about shadows. It delivers movies at 1080p and also supports HLG and HDR10 formats.
This projector is one of the most powerful options for outdoor movie viewing. It has 4,500 lumens, which is rare to find at this price range.
Like other models we've mentioned, it also renders images in 1080p and supports most of the popular video formats. Weighing less than 3lbs (1.3kg), it's one of the most portable projectors you can find.
2. Get the Perfect Projector Screen for Outdoor Viewing
You need a projector screen to watch a show. While everything from a whiteboard to a plain white wall may work indoors, you'll need to put more thought into choosing a screen for outdoor viewing. The perfect screen has to be reflective to withstand the effect of sunlight and deliver crisp, clear images you can enjoy without eye strain.
There are different categories of reflective projector screens you can go with. Let's look at some of them below with some product recommendations from Amazon.com:
Inflatable Projector Screens
Inflatable projector screens are one of the best solutions for outdoor projection. They are sturdy enough to withstand the wind, and the large reflective screen area ensures you don't have to worry about viewing angles.
If you choose to go with one of these, it's best to look at portable models that are easy to set up. Some of them are self-inflating, going from flat to ready in less than five minutes.
Other options require you to use manually built-in hand pumps. Screens in the latter category are typically cheaper, but they require a bit more exertion to use.
If you're looking for the perfect inflatable screen to go with, the Khomo Gear Jumbo 20 Feet Inflatable Screen (Amazon) should be high on your list.
The screen size is 13x18ft (3.6×5.49m), making it far bigger than similar models. It has front and back projection capabilities, and the setup (or pack up) process is straightforward.
Tripod Projector Screens
Tripod projector screens are an affordable alternative to inflatable screens. They're easy to set up as you only need to unfurl and position them in your preferred spot. However, they aren't the best option to go with on windy afternoons. There's a high chance it will fall over unless you hold it in place.
Fortunately, the lightweight nature of these screens means you can move them around a lot faster. So, if the weather takes a turn for the worse, you can quickly change your viewing position. The flat design of the screens also means that they can also work well indoors.
The Vamvo 120-inch Portable Foldable Projection Screen (Amazon) is one of the best options you can get here. It comes with a foldable stand, and you can assemble or pack up the screen without using any special tools.
It's a lightweight package, so you can hold it in one hand while carrying the drinks cooler in the other. The screen is wrinkle-resistant and ensures seamless viewing from a wide range of angles.
Hanging Projector Screens
Hanging projector screens shouldn't be your first choice for outdoor viewing because they have to be mounted.
Most owners of such screens have them permanently fixed somewhere outside the property. However, if you don't mind spending a few minutes to tie and untie the screens, they're an affordable and highly versatile option.
Just like the tripod screens, they can also work indoors. The Elite Screens Manual B 100-Inch Projector Screen (Amazon) is a model you can consider.
The screen comes with a black covering behind it to prevent light penetration and color loss. The screen lanyard ensures you can pull the screen down easily once set up.
3. Clean the Projector Screen
Once you've secured a screen, you have to clean it before mounting it for use. Most new screens fresh out of the box won't require any cleaning, but if you notice any dust or smears (or leave some while handling the screen), be sure to clean it all off.
Smudges on the screen will be distracting. You'll likely find it harder to distinguish shapes and colors. You can clean your projector screen with lukewarm water or a cleaner.
If you choose to go with a cleaner, avoid harsh options that contain alcohol or bleach. They may permanently discolor the screen.
4. Get the Audio Equipment Ready
Most projectors have built-in speakers, but they're not loud enough for outdoor use. You'll need to hook up a sound system to most of them unless you have the BenQ TH685 we mentioned. If you have a portable speaker compatible with your projector, you can carry it outdoors.
You'll only need to get it to a power source and connect the audio wires from the projector to the speakers. Most people avoid the rigor of hustling the connectivity by going for a battery-powered Bluetooth speaker.
If you have an older project that doesn't support Bluetooth connectivity, you'll have to make do with a wired speaker connection. Be sure to protect your speakers from the elements.
5. Wait for the Perfect Weather
It may be tempting to get your projector out once the sun comes out, but you need to check the forecast to see what the day looks like. You don't want to be outdoors when the sun is around its peak for the day.
Similarly, you also have to avoid cloudy or windy days. It's not fun to get caught unawares by heavy rainfall, and extreme winds can make it difficult for your projector screen to stay in place.
Checking the forecasts for the day should give you an idea of what to expect. Of course, it's not set in stone, but it's the surest way to avoid taking any chances.
The perfect weather to use a projector outdoors is when the wind is very light, and the sun's peak has passed. A cloudy day also works if there is a low chance of rainfall.
6. Go Outside During the Perfect Time for Outdoor Viewing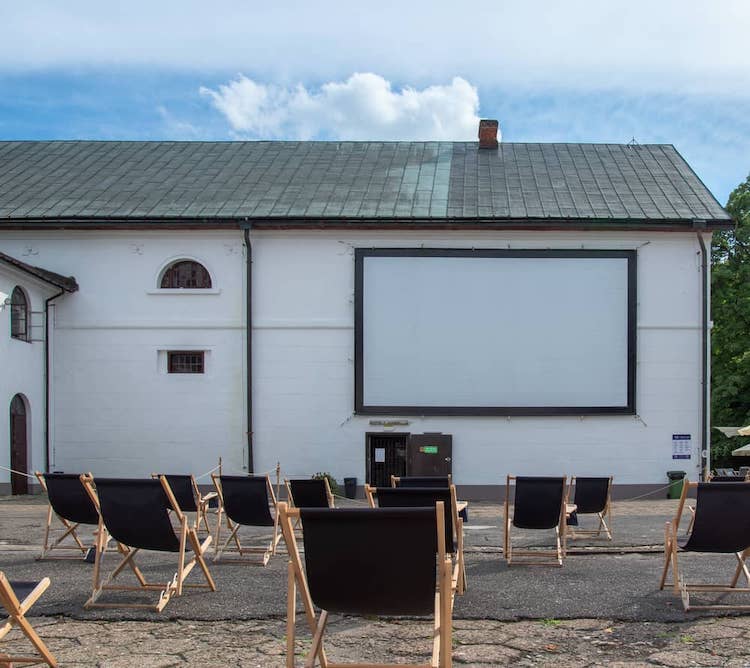 Tying into the point above, the best times to use your projector outside during the day are the mid-morning and early evenings. The hours just before noon and the hours before sunset are the most optimal times.
If you go out with your projector between 11 am and 3 pm, you'll have to put measures in place to keep your skin safe from the harsh sunlight. The heavy sunlight will also make it harder to see images on the projector screen if the lumens rating on yours is below the 3,000 thresholds.
So, in the winter months, you have more flexibility on when you can use your projector outdoors. In the summer, you have to choose the best time to avoid the peak of the sun.
7. Set Up in the Best Location
After you've gathered all the gear you need to enjoy your outdoor movie session with a projector, it's time to set up.
When choosing a location, look for areas that give you and everyone else a 160° viewing angle. A powerful projector makes your job easier here, but it doesn't hurt to position your screen optimally. Pay attention to avoid putting the screen directly in front of the sun as it'll blunt off some of your projector's power.
Don't position the screen in a way that puts the sun directly behind it either, as the glare may get through the screen. Also, you don't want to be staring towards the sun while watching your movie or show. Ideally, you should position your screen in a way that puts the sun to the sides.
8. Create Extra Shade if Necessary
Even when the sun isn't at its peak, daylight can be a bit overpowering. You may need to create shade for your projector screen or for everyone watching the movie.
Standard beach chairs and umbrellas can help here. If you have large trees around, then you can move your projector screen around a bit to
If you want something more permanent, you can consider constructing a gazebo or patio with a covering. Such installations make sense if you use your projector outdoors a lot (perhaps for business purposes).
For private or family use, it may be hard to justify such elaborate constructions. Why come outdoors to enjoy the weather and go under shade, right?
9. Enjoy Your Movie
With everything in place, you can enjoy your movie. Tweak the position of your screen or change your sitting position if necessary.
Watching a movie for long in an uncomfortable position can lead to neck or eye strain. In the same vein, make sure you don't look in the direction of the sun for too long.
How To Use a Projector Outside During the Day in a Neighborhood
Be sure to put your neighbors into consideration. Don't play your movie too loud to attract a complaint. Check to see if there are laws against outdoor movie sessions in your location to avoid fines. If it's impractical to use your projector outdoors in the area, consider going to a park on a movie picnic.
Final Thoughts
Using a projector outside during the day is all about getting the perfect gear together and choosing the best possible time for your movie session. Projectors delivering at least 3000 lumens of brightness and reflective screens are the perfect combo.
Avoid using your projector outdoors on extremely sunny days. Such conditions can dampen the power of your projector, and everyone enjoying the movie can get uncomfortable quickly.
Also check out Noise Reduction Hacks for a Noisy Projector
Sources